The class profile includes basic information that was entered when the class was created.
Find your Class Details.
To edit your Class Details, log into MakeMusic Cloud at https://admin.smartmusic.com. Select Classes at the top of the page. Then select
under Settings & Roster for the appropriate class.
Select Class Details. The Class Details appear.
Or, access your Class Details from your Gradebook. Once you have chosen a class, select Class Roster. The Settings & Roster page appears. Select Class Details.
Edit your Class Details.
Your Class Details appear. Enter the updated information for Class Name, Teacher Display Name, or Last Date To Join This Class.
Editing the Class Name and Teacher Display Name will update that information for both Educators and Students.
If your Last Date to Join This Class has passed, students will not be able to use your Class Code to enroll in the class. Enter a date in the future to allow students to enroll.
Select Update to finalize.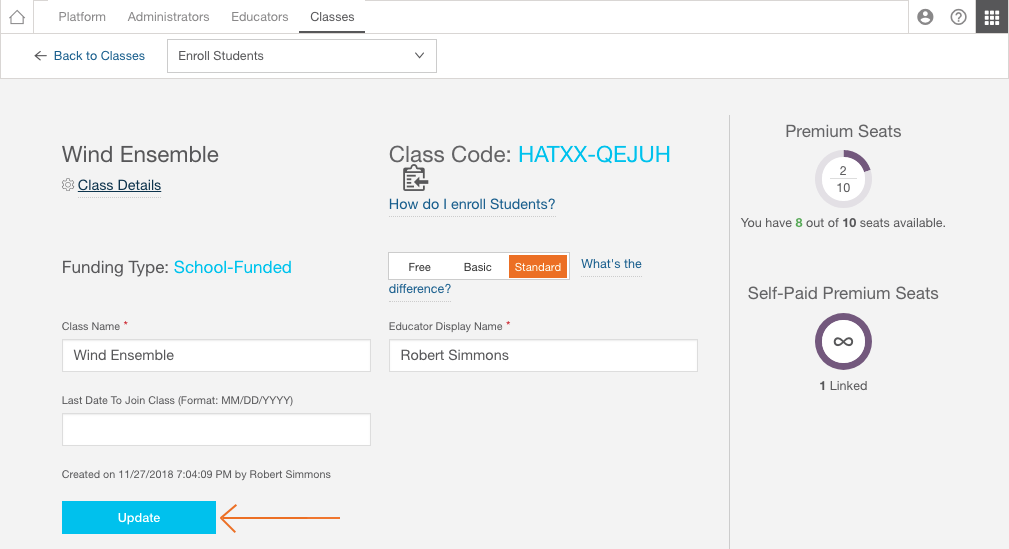 You can also change the Class Access. For more information see Upgrading or downgrading a class.