To join a class with an existing account you will need to ask your teacher for your Class Code. The Class Code is in this format: XXXXX-XXXXX.
There are three places to enter in your Class Code. Go to https://home.smartmusic.com and select Join a class.
Or, log into your account and select the Join A New Class With Class Code button on the My Classes deck.
Or, select the user icon and choose the Join a Class option.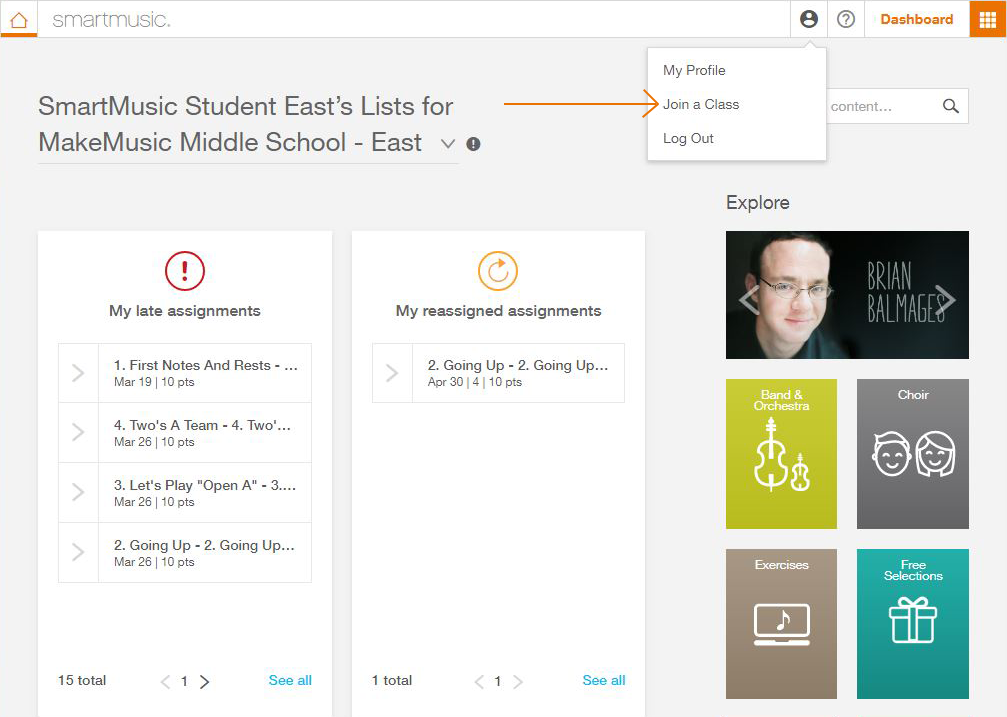 Enter your email address and your Class Code. A green check 
will appear when you enter a valid Email and Class Code. Select Continue.
The Class, SmartMusic Platform, and Educator associated with that Class Code appear. If the class information is correct, select Confirm And Join This Class. 
Warning: Depending on how your teacher set up the class, you may need to purchase a Premium subscription for $20.00/year to enroll in the class. Select Continue to purchase your Premium subscription. For more information, take a look at Purchasing a Premium subscription.
The Let's Get You Joined! window appears. If you entered the wrong email address select Go Back to edit the email address for your SmartMusic account. If your email address is correct select Continue.
Your Dashboard appears. Your new class is now listed on the My Classes deck
After you have joined your class, you can complete your assignments.