As with any other piece of content, you can assign exercises to your students. However, with exercises you can specify the concert pitch key to be applied to each exercise assignment. Here is how it works:
Jump to:
Step 1: select the Exercises tile.
On the Dashboard page, select the Exercises tile.
Step 2: find and select the exercise.
Choose an exercise type and select Assign. The Movement drop-down menu appears with a list of exercises. Choose the exercise you would like to assign, and select Assign.
Step 3: select the assignment type.
The Let's Set Up Your Assignment page of the Assigner appears, where you can name your assignment, select an assignment type, and enter general instructions for the assignment. Select the Select An Assignment Type drop-down menu to choose Custom Assignment.
Step 4: setup general parameters.
Once the assignment type has been chosen, select the parameters for the tracks, cursor, highlighted measure, sight reading, and key. These parameters will apply to all parts included in the assignment.
Allow your students the option to use the Metronome, Accompaniment, and My Part tracks when recording their submissions. Select Metronome, Accompaniment, and My Part, or any combination of the three. If any track is deselected your students will not be able to submit a recording where that track is in use. Students will be able to Play or Record with any track not used for submission.

In the Cursor type drop-down menu, select Any, Beat, Note, Flow, or No cursor for the playback cursor.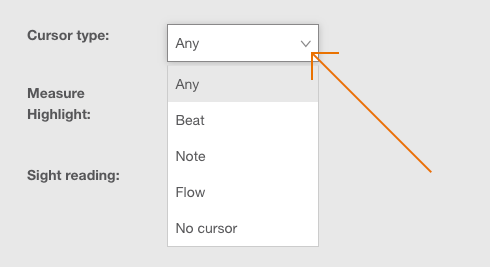 In the Measure Highlight section, use the On and Off buttons to enforce whether the current measure is highlighted or not.

See Creating a sight-reading or sight-singing assignment to make any title in MakeMusic Cloud a sight-reading assignment.
You are able to choose a specific key when assigning an Exercise in MakeMusic Cloud. Use the Select an exercise key drop-down menu to choose the key for the assignment.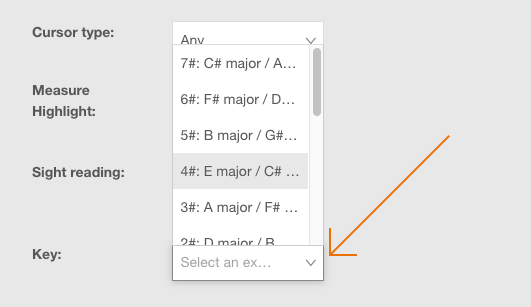 Once you have setup all the parameters on the Let's set up your assignment page, select
.
Follow the same steps in the Assignment creation article to finish editing the parameters for your exercise.
What about my students?
When your students open the assignment, they see the exercise in the proper concert key.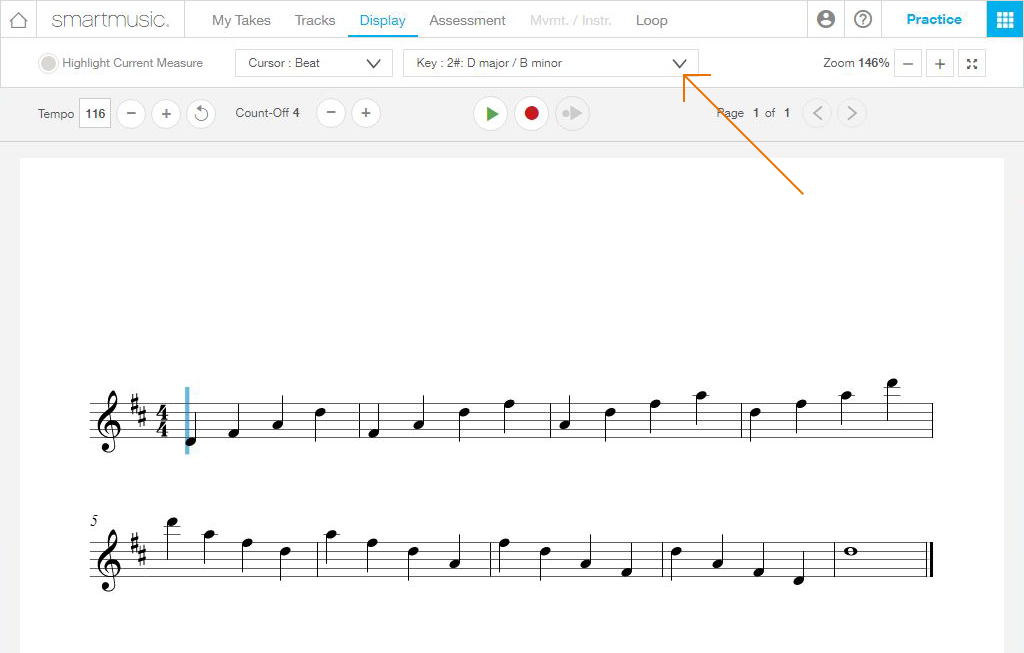 If they try to change the key and record, they are warned that they will not be able to submit their assignment, and an exclamation point appears over the Record button:
.
Students can easily go back to the initial setup through a pop-up window.