After your organization has purchased SmartMusic, the designated SmartMusic Administrator for your platform will invite you to connect to SmartMusic as an Educator.
Jump to:
Step 1: open the email invite.
The invite is sent to the email address that your Administrator provides. If you know your Administrator already sent you an invite to the right email address and you do not receive an email, check your junk mail folder and make sure that *@makemusic.com and *@smartmusic.com are added to your email account's safe list, then ask your Administrator to resend it.
Open the Connect to your SmartMusic Organization email invite. Select ACCEPT INVITE to create your account and connect it to your platform in the role of Educator. Please note that this is an entirely new platform, and your SmartMusic Classic account does not carry over. Select here for more information.
Step 2: create your new SmartMusic account.
After you select ACCEPT INVITE, the Let's get started page appears, asking you to verify that you are 13 or older (in accordance with the COPPA rule). 
The SmartMusic Terms of Service agreement appears. After you are finished reading the SmartMusic Terms of Service agreement, indicate whether or not you agree to the terms of service and select

.
The Enter your account information page appears. Fill out your user profile information. A green check
 will appear to indicate that the Username and Password fields have been verified. Select

 when you are finished.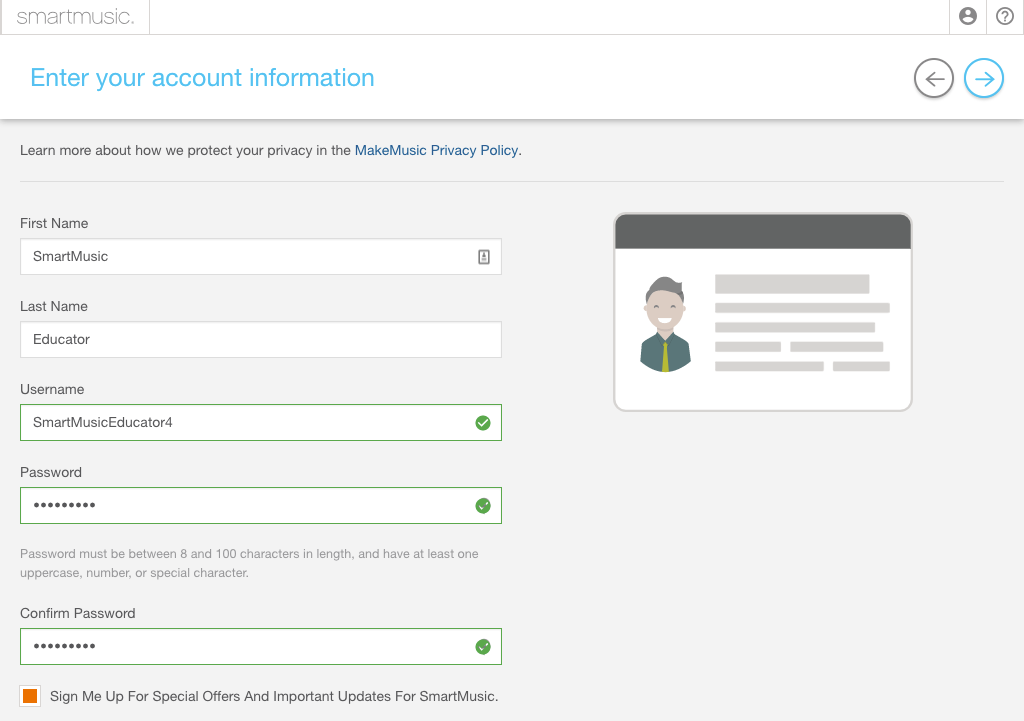 The Set your backup email page appears. The following pages are optional. Select

 or No thanks, skip this step to advance. 
Use the drop-down menus to select a preferred instrument, if you have one, and select

 or No thanks, skip this step.
Verify your Country and Timezone and select

.
A confirmation page appears and you are redirected to the Manage classes page.
To access all the features in SmartMusic you will need to create a class. Continue to the next section to learn how to create a class.  
Next:
Create your class by following the instructions in our Creating a class article.
If you are an Educator for more than one SmartMusic platform follow the instructions in our Connecting to multiple SmartMusic platforms (Educators).