Assignments can be created from interactive titles in MakeMusic Cloud's music catalog after selecting the title in Find Music. Every assignment you create is saved as a template, which you can either assign right away or assign later. Your assignment templates are saved on the Home page under Recent Assignment Templates and on your Units page. Read the steps below to learn how to create assignments.
In order to create assignments, you will first need to create a class.
Jump to:
Step 1: find and select the music.
To create an assignment from repertoire found in the MakeMusic Cloud catalog, first search for the title you want to assign. You can choose Music Catalog from the Sidebar or search on the Home Page under Music Categories. For more information, see Finding and opening music.
Note that only Interactive titles from the catalog featuring this icon
can be assigned. On the other hand, Digital Sheet Music titles, featuring this icon
, are view-only and cannot be assigned. (See this article for details.) Repertoire that is available in both Interactive and Digital formats will display both icons to the left of the title in the search listing. Choose the Interactive tab in order to assign the title.
Choose the movement you would like to assign, and select Assign.
Step 2: select an assignment type.
The Create new assignment page of the Assigner appears. Use the Select An Assignment Type drop-down menu to choose either a Predefined Assignment (if available for that title) or a Custom Assignment.
Predefined assignments (created by music educators) already include instructions, locations, and tempo for each part in the title. When a predefined assignment is selected, the assignment details are displayed on the right.
To use the locations, tempos, and instructions listed under the Predefined assignment section, choose Use Current Parameters . Select

to continue the assignment creation process in Step 6: create a grading rubric for the assignment.

To adjust any of the current parameters of the predefined assignment, choose Edit Parameters and select

to continue in Step 4: setup the location, tempo, and part instructions for all parts.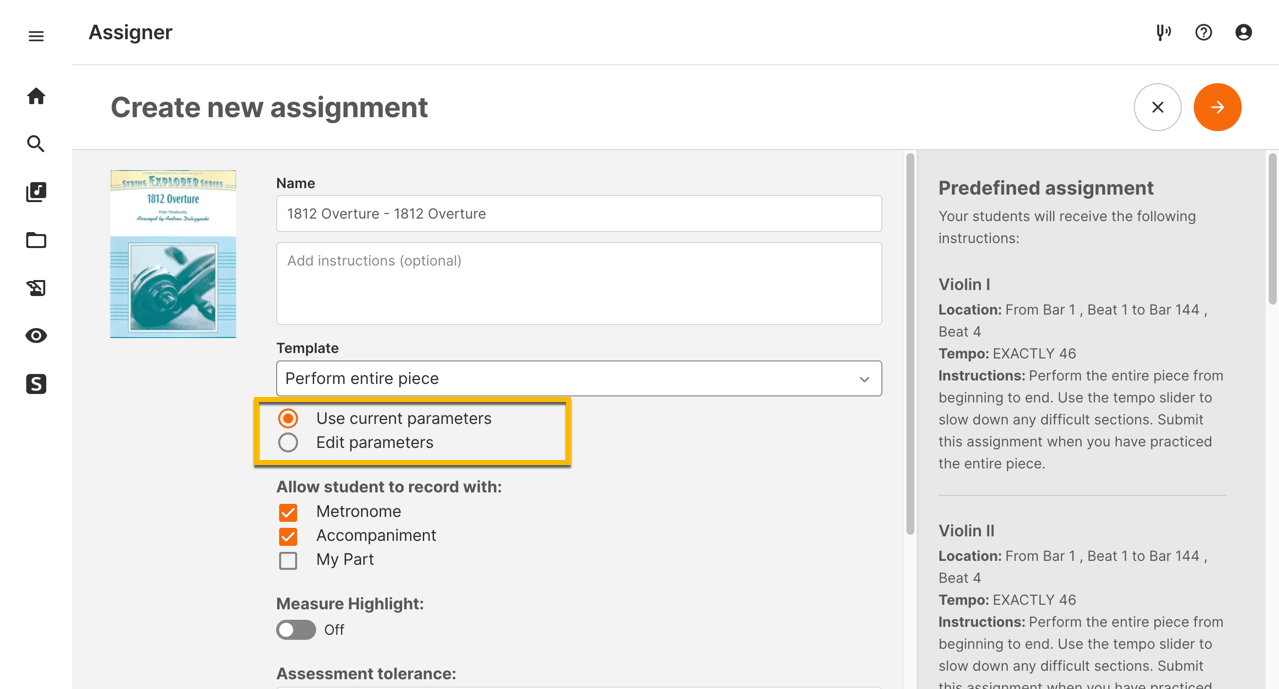 Or, to set up your own unique assignment parameters, use the Select An Assignment Type drop-down menu to choose a Custom Assignment. Then define the instructions, locations, and tempo for yourself.
Step 3: setup general parameters for the assignment.
Once the assignment type has been chosen, select your preferred parameters. These will apply to all parts included in the assignment.
Select Metronome, Accompaniment, and My Part, or any combination of the three as your required assignment settings. Students can change these settings for practice, but can only submit an assignment with your required settings.
Toggle Measure Highlight to allow you students to choose whether or not the current measure is highlighted for assignment submission.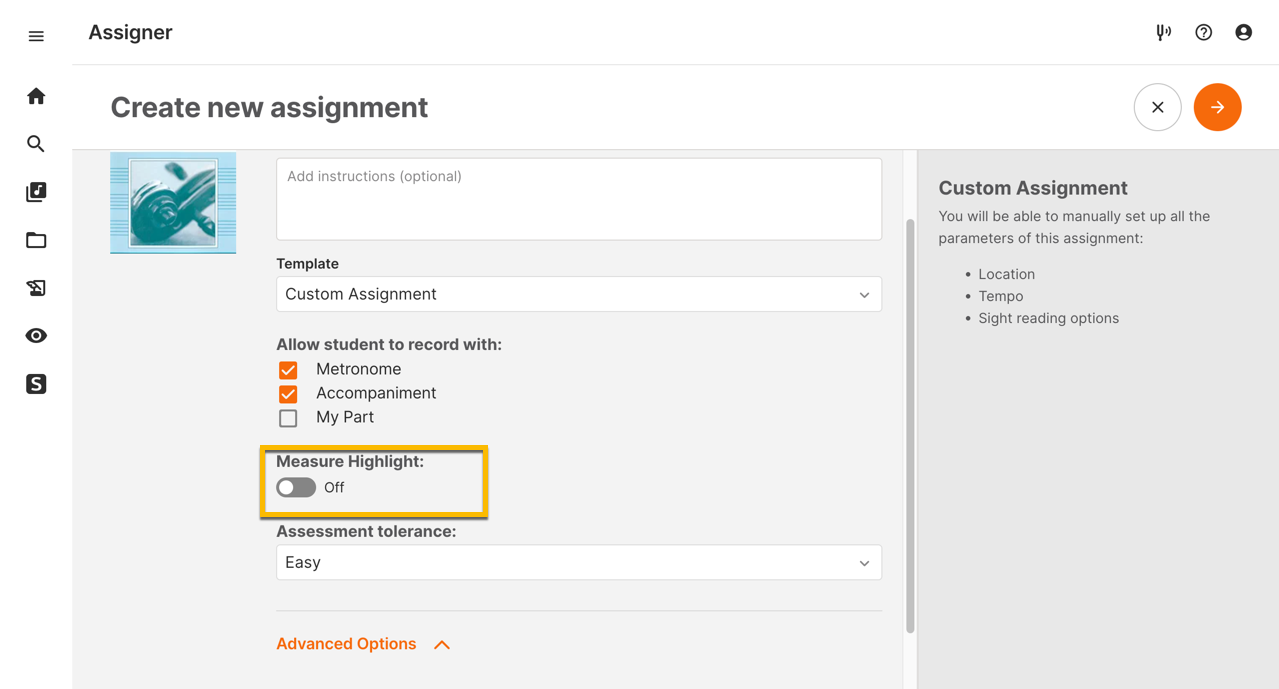 To change how MakeMusic Cloud will assess pitch and rhythm, choose the Assessment tolerance tab and select the Tolerance drop-down menu. Choose Easy or Lenient to make the assessment more forgiving. Choose Average to allow a medium assessment of pitch and rhythm. Choose Strict to make the assessment more demanding.
The tolerance levels correctly assess students in three categories: pitch, onset and duration. These areas with adjustable settings are measured with pitch in cents, onset in milliseconds, and duration as a percentage.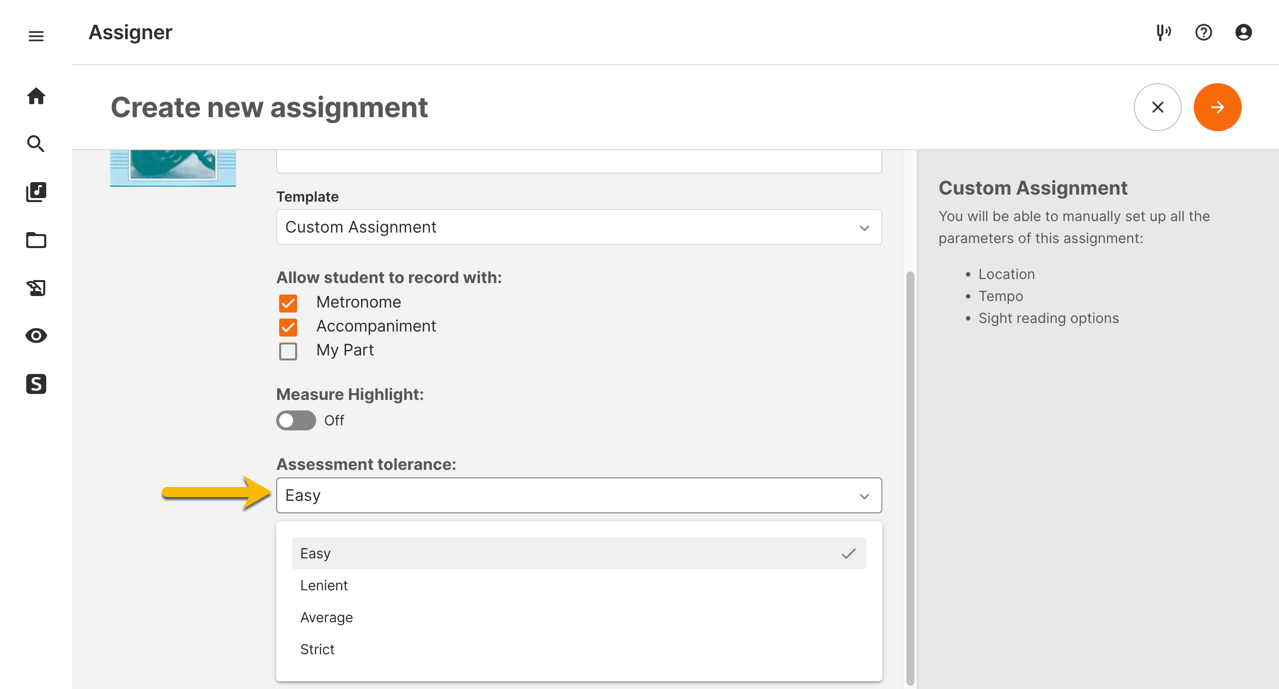 There are additional parameters that you can edit for your assignments. You can select Advanced Options to access those additional parameters.


In the Cursor type drop-down menu, select Any, Beat, Note, Flow, or No cursor for the playback cursor.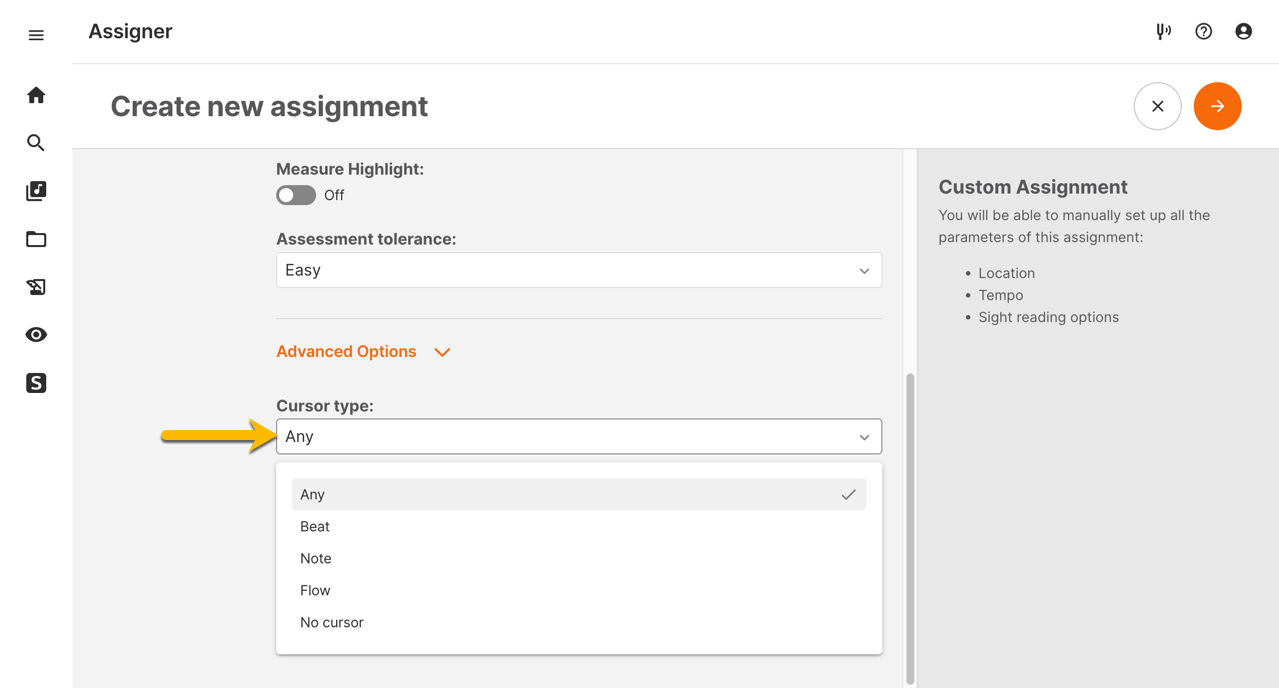 In the Assessment mode section, to assess pitch and rhythmic input, select Allow Both Melodic and Percussion/Clapping. To assess rhythmic input only, select Allow Percussion/Clapping Only.
See Creating a sight-reading or sight-singing assignment to make any title in MakeMusic Cloud a sight-reading assignment.
Once you have setup all the parameters on the Create new assignment page, go to the upper right corner of this page and select

.
Step 4: setup the location, tempo, and part instructions for all parts.
The Customize Your Parts page appears. Here you can set up the Location and Tempo parameters and include Instructions for your students. You can also zoom, change pages, and playback your selection. The default setting for this page is Same Setup For All Parts, meaning all parts will have the same Location, Tempo, and Instructions. To set up different Location and Tempo parameters for certain parts, select Custom Setup.
To define the assignment Location, you can drag the starting and ending points in the score. Alternatively, you can enter the starting and ending bars and beats. (Note: If the piece includes repeated sections, the bar numbers for starting and ending location will not match the printed bar numbers in the music because repeated measures will be recounted for each pass of the repeat.)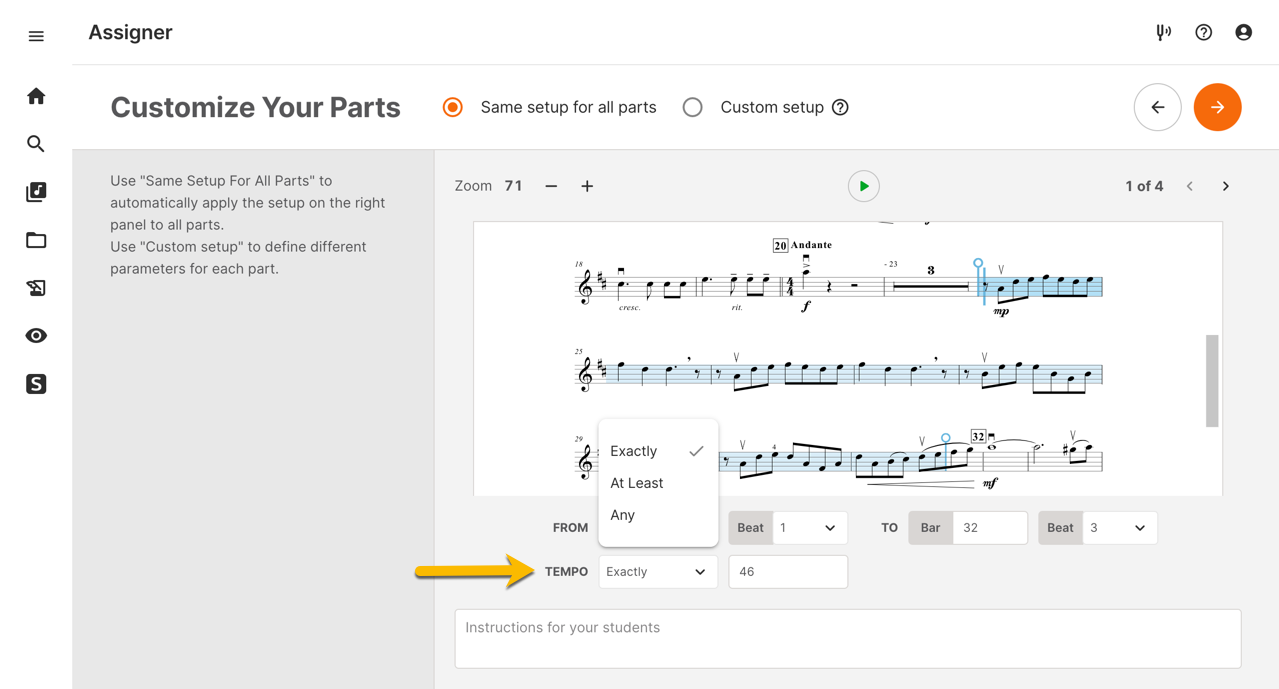 To define the Tempo (beats per minute), choose Exactly or At Least and enter the required tempo for the assignment. Choose Any if you do not want to set a required tempo. If you'd like to provide any instructions to students that are assigned this part, you can enter them into the Instructions text box.
Step 5: (optional) custom setup for the location, tempo, and part instructions.
To set up specific parameters for different parts, select Custom Setup. The part list appears with the current Location and Tempo for each part. Select each part from the list if you want to set up a unique Location, Tempo, and Instructions for each part. If you want to copy instructional elements from a part to one or more other parts, at the bottom of the part list, select Copy parameters from current part.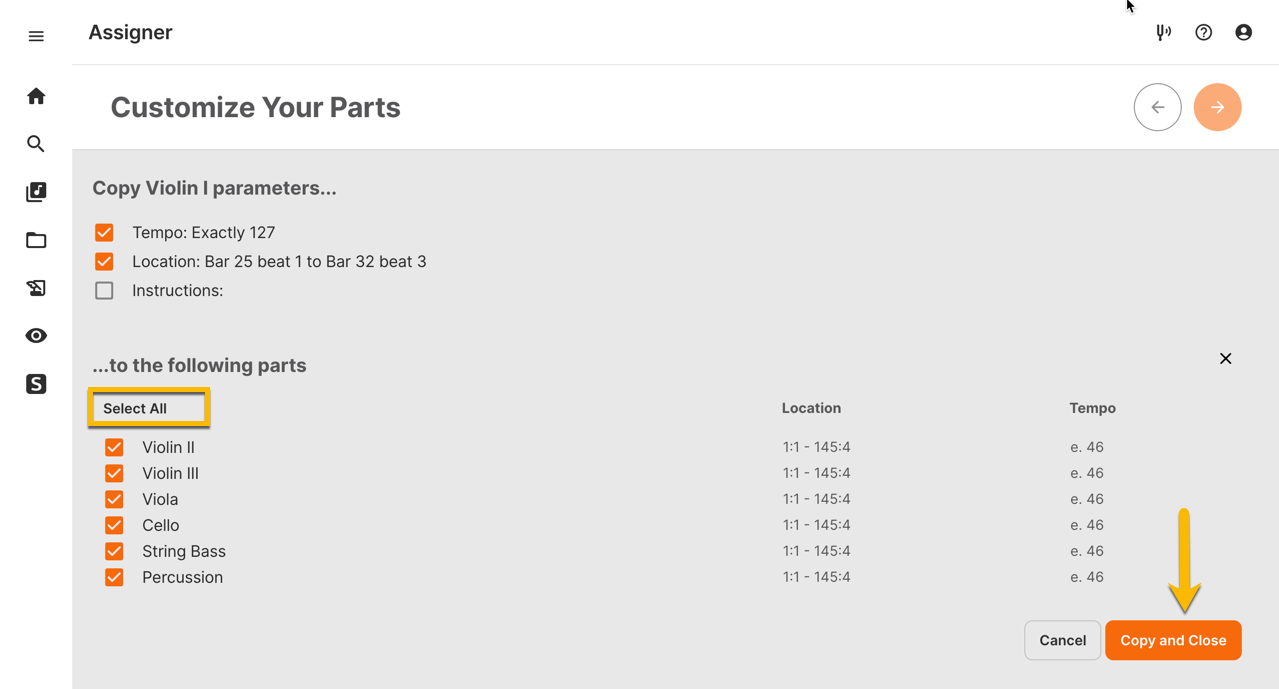 The Copy parameters to the following parts page appears. Select the parameters you want to copy and individually select the parts you'd like to copy these instructional elements to, or select Select All to copy to all parts. Select Copy And Close to copy your selected instructional elements from this part to your selected parts. Select Cancel to return to the score and part list without copying part parameters.
The updated part list appears. When you are satisfied with your parts, select

.
Step 6: create a grading rubric for the assignment.
The Create Your Rubric page appears. The Assessment Grade (the default grading criteria), is available for automatically grading the percentage of correct notes and rhythms for this assignment.
To use this automatic criterion for your assignment, hover your mouse over Assessment Grade.
The display changes to show the first letter of the criterion name. Click on the pencil
to add descriptions to this grading criterion. Select Add to Rubric to add this criterion to your assignment.
Once the Assessment Grade criterion has been added, the Grade this assignment automatically checkbox appears. When Grade this assignment automatically is selected, notes and rhythms are automatically graded according to the computer-based assignment score. This grade appears immediately in the Gradebook and requires no grading on your part. When an assignment is past due, it is automatically graded as a zero. You can modify the grade at any time in the Gradebook.
When Grade this assignment automatically is deselected, an assessment grade is still automatically generated but you'll need to follow the steps in the Grading article to confirm the grade.
Additional Single or Multiple criteria can be created to grade an assignment, like Recording, Dynamics, and Articulations. New criteria are not automatically assessed, but the grading criteria are customizable.
To create a new Single criterion that can be added to the rubric for this and future assignments, select
. A blank Single criterion appears. Enter the criterion title and the description of what the student is being rated on for that criterion.
You can also add multiple levels to a criterion. Select Multiple to create a multi-level criterion. Each level awards a percentage of the total points for that criterion. Enter the criterion title, description and scoring percentage of the total points for that criterion. After you fill out the information for one level, select
Add New Level to add another.
Once you are satisfied with your criterion's description, select Save Criterion. If you need more information on an existing criterion or need to edit its description, mouse over the criterion under the My Criteria column and select
.
When you are finished building your grading rubric, enter the number of points possible for each criterion you've added to your rubric. The points are automatically totaled up. Select

when finished.
Step 7: choose whether to assign now, or save it for later.
The Template created window appears. Select Yes, assign now if you want to assign it to your students now.
Select Not Now to save the template to assign later and return to your Home Page . If you choose to assign later, you can do so by navigating to the Assignments section of the Navigation Bar.
Step 8: select a class and the assignment dates.
The Assign To Your Students page appears. Choose a class from the Select a Class drop-down menu. Classes without defined grading calendars appear with a
icon. If you are connected to more than one MakeMusic Cloud platform, make sure to select the desired platform in the School drop-down menu.
If you have selected a class without a defined grading calendar, select Define now to open the Class Tools and define a grading calendar. Select Refresh once the grading calendar has been defined.
If you would like to assign the same assignment and parameters to multiple classes, use the Class drop-down menu to choose another class.
Assign Now is the default setting. Choose the Due On date. Select the calendar drop-down to choose your assignment due date. A message appears below the fields, telling you which grading period the assignment will be included in.
Deselect Assign Now to assign to students in the future. Manually choose the dates and times either by selecting the calendar icons or by entering information into the fields. A message appears below the fields, telling you which grading period the assignment will be included in.
If you have not yet created a Grading Calendar that establishes the grading periods for your class, you need to do so before you can assign anything. See Creating or using an existing grading calendar.
If a due date is outside the defined grading calendar, a message appears. Adjust the date or edit the grading calendar.
If you'd like to allow your students to submit the assignment past the due date, select Allow Late Submissions and choose the date and time to extend the deadline. The Allow Late Submissions date must be after the due date.
If you'd like students that enroll late to automatically receive this assignment as well, leave Include Late Enrolled Students selected. This feature is only available for current assignments.
If a student enrolls in your class after the assignment's due date, they will not automatically receive this assignment. To schedule this assignment to all students, select Assign To All Students.
Select

when you are finished.
A window appears letting you know the task was successfully assigned to your students. Select I'm done to return to your Dashboard.
Once the date and time deadline for the assignment arrives, your students will be able to access your assignment from their Home Page by following these steps.
Step 9: (optional) assign to some students
Choose Assign To Some Students.
A list of students for your selected class or classes appears. Select individual students to assign the task to or select Assign all to choose all students in a class. Select Add students to confirm your student selection.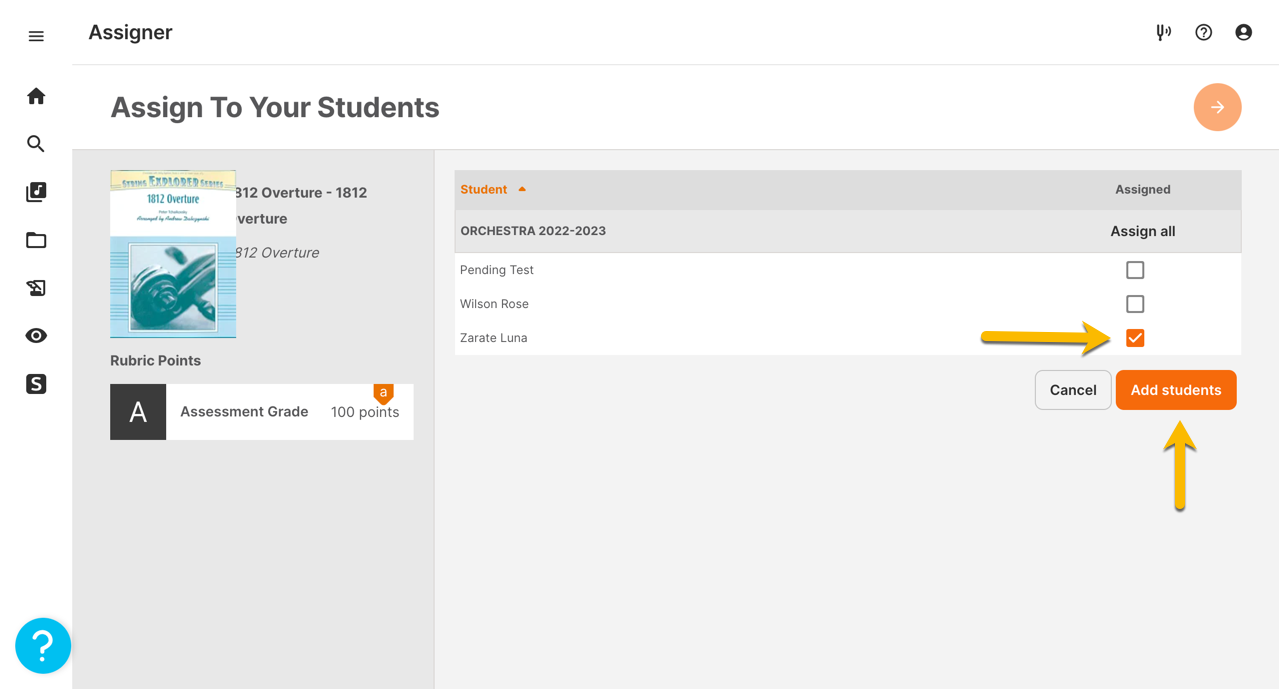 A confirmation message appears. Click OK.
The Assign To Your Students page is updated to reflect your added students. If you would like to review the list of students, or add more students to this assignment, next to Assign to some students, select the selected/total students link.
To schedule this assignment, go to the top right corner of this page and click

.
A confirmation message appears. Select I'm done to finish the assignment process.
Next:
Learn how to grade any assignments your students submit by following the instructions in our Grading article.