In Find Music, you can search through SmartMusic's online catalog to find and open SmartMusic titles.
Jump to:
Step 1: navigate to the Find Music page.
To start exploring the SmartMusic catalog, select the Navigation Icon
and choose Find Music.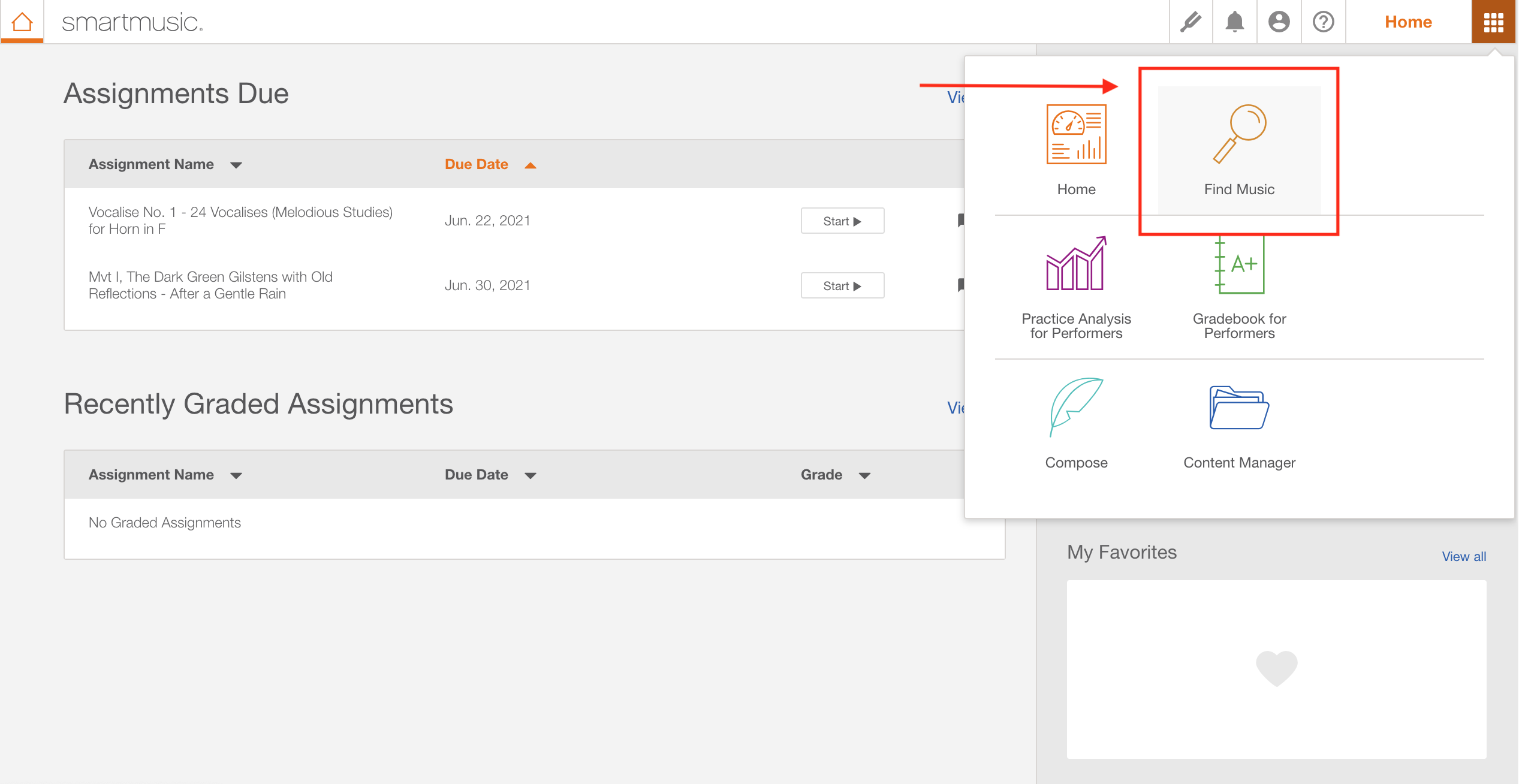 The Explore page appears. Here you can cycle through and select from our featured music using the left and right arrows. You can also select a genre, featured publisher, or category to see all titles related to that selection.
If you have a specific search term in mind, enter it in the Open Or Assign Content search bar. This text-based search is capable of filtering by title, movement, composer, instrument, publisher, etc.
Step 2: filter options on the Search page.
Select one of the options on the Explore page, type your search phrase into the search bar and select the magnifying glass, or select Search.
The Search page appears. Results are sorted by Title, Instrument, Composer, and Publisher. You can select Title, Instrument, Composer, or Publisher to sort the results alphabetically in ascending (A to Z) or descending (Z to A) order by that column.
Search results can be filtered by Categories, Genres, Instruments, or Difficulty under Filters.
You can also filter your selections between Interactive or Digital (view-only) content. Some titles in our catalog are printable and available as full scores so you can select Printable or Full Score to filter your results as well.
To sort by instrumental ensemble select the Band & Orchestra Category. Five ensemble options appear. Select All to see every Band & Orchestra title, or select a specific ensemble type to filter results.
Results will be updated as soon as you select a Filter. To remove a filter, select the X on each filter or deselect the filter from each drop-down menu.
Step 3: choose a title.
Select the name of a title. An Overview of the title appears with options to narrow down your search to specific movements or exercises from the title. If you want to open the title, select Open. You can also select the
icon to add this title to your Favorites List.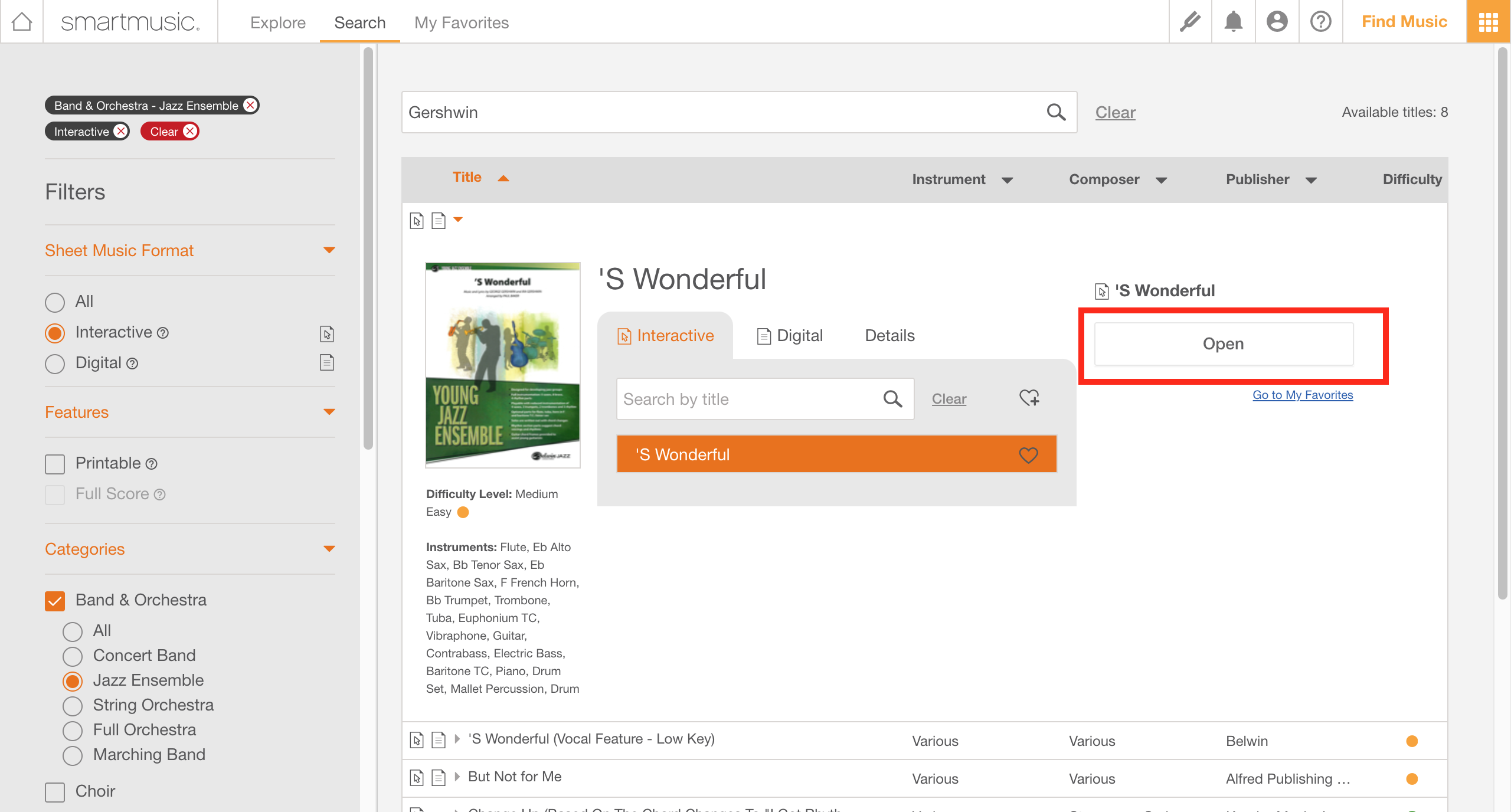 Step 4: select Open to choose the movement and instrument.
After selecting Open, choose the movement either from the drop-down menu or from the Movements list. After the movement is selected, use the Instrument drop-down menu to type or select an instrument. You can press
to reselect either of these options as well.
After both the movement and instrument have been chosen, select Open. The title appears. See Playing and practicing music for the next step.
Finding and opening a pinned method book.
In SmartMusic your teacher can pin a method book to any class. Pinned method books can be found on your home page under My Method Books.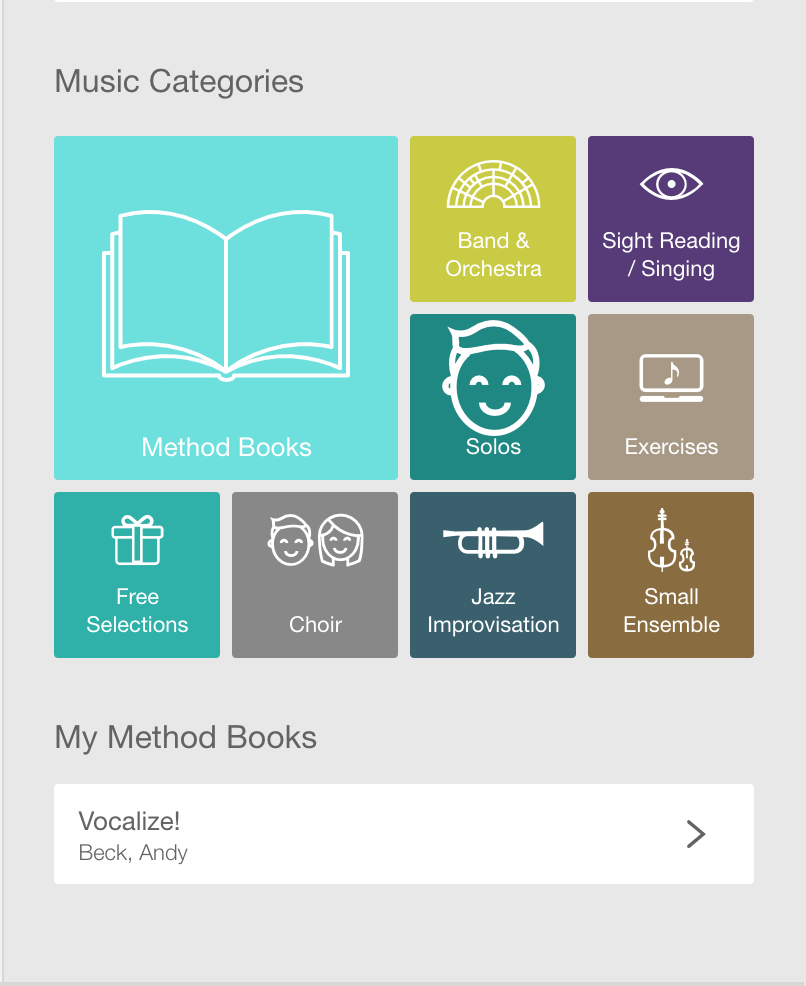 Select the method book and the Opening A Method Book window appears. Select Cancel to return to your Dashboard. Choose your instrument and exercise by using the Filter Movement By Instrument and Movement drop-down menus and select Open. The exercise appears.
See Playing and practicing music to learn how to play along with the music once it is open.